The Swimming Pool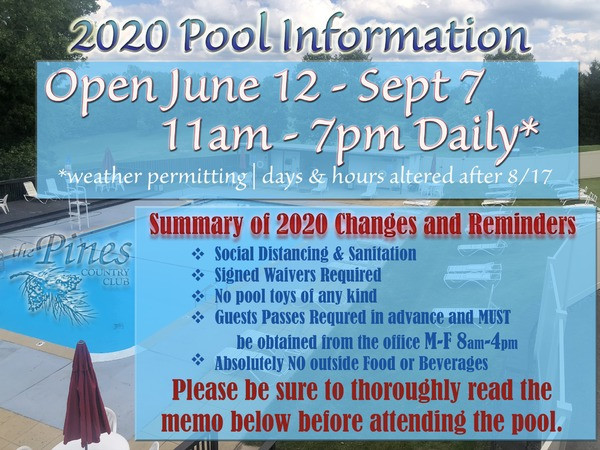 The Pines has ever been committed to minimizing health risks, and this is even more imperative with the recent rise of COVID-19. We've made a number of changes within the clubhouse toward that end, and in the interest of keeping members as well as their guests  safe while enjoying the pool, our Pool Committee has put into place safety measures in accordance with CDC and DHHR pandemic guidelines.
In addition to all Existing Pool Rules, we ask that you observe the following safeguards when at the pool:
• If you are ill or have a temperature stay home.
• Patrons are asked to maintain a distance of 6 ft from anyone who is not of their party
• Chairs will be arranged according to this principle, and may be moved to accommodate your party, as long as they are returned as closely as possible to their original position when you leave.
• Sanitation stations will be set up, and all patrons are required to clean and sanitize their chairs/tables before and after use.
• No pool toys of any kind will be allowed at the pool.
• Waivers must be signed for each and every member of the household, and for any guests of the family. Minor children brought as guests must have a waiver signed by their guardian/parent. (Waiver is a tab under Swimming Pool, may be obtained from the office, and will also be available at the pool gate. We strongly suggest completing before arrival in order to keep wait times short)
• In order to avoid possible overcrowding, at the present time pool guests will be limited. Members are required to contact the office between 8 am and 4 pm, Monday through Friday, to check availability and to obtain a guest pass. Passes will be available on a first-come first-serve basis. Please plan accordingly.
• We are reviewing the advisability of pool parties and swim lessons; Once a decision is made, we will notify all members.
• Food and Beverage will be available this weekend at the pool. The method for redeeming the $100 prepaid food and beverage will be determined soon. More detailed information will be available on Friday.
PLEASE NOTE: These measures have been adopted for the welfare of all pool patrons, and we ask you to be diligent in their practice for everyone's protection. They are preliminary, and subject to constant review in the light of continuing developments.
Please make sure you keep a current email on file with us, as this is the method of communication we will use to alert members of policy or procedure changes, as well as through our Wednesday NewsBlasts.